The Evangelism Ministry is an integral part of the church. Through prayer and God's leading, Elder Rhynes and Evangelist Prince are responsible for training teams for ministry outside of the local church in the form of street witnessing, outreach activities, nursing home programs, hospital visitation, etc. with the goal of winning souls to the Kingdom of God.
2017-2018 Vision:  "Expanding the Walls"
Isaiah 54:2 Enlarge the place of thy tent, and let them stretch forth the curtains of thine habitations: spare not, lengthen thy cords, and strengthen thy stakes;
Mission:  St. Luke 14:23 And the Lord said unto the servant, Go out into the highways and hedges, and compel them to come in, that my house may be filled. Our charge is to go out and minister life to those that may have an ear to hear the call to salvation—-in that God's house shall be filled.
The Evangelism Ministry is comprised of two components; Inreach and Outreach with both supporting missions work.
In Reach
Our mission is an extension of our mission scripture basis, taken from Jeremiah 31:3"…with lovingkindness have I draw thee." It is to demonstrate the love of Christ by demonstrating lovingkindness to each visitor and the members of this "New Community".
Mission Scripture:  Jeremiah 31:3 The LORD hath appeared of old unto me, saying, Yea, I have loved thee with an everlasting love: therefore with lovingkindness have I drawn thee.
Objectives
To assist the Pastor with staying in touch with the members.
To visit and contact those members sick and the shut-in.
To extend the love of Christ to each visitor and respond to questions regarding the church.
Outreach
Our mission is to love God's people with the Love of Christ. We seek to minister to the needs of man naturally in an effort to open their ears spiritually. For the Bible says let he that hath an ear hear what the Spirit saith unto the churches.
Mission Scripture: St. Matthew 25:42 For I was a hungered, and ye gave no meat: I was thirsty, and ye gave me no drink, I was a stranger, and ye took me not in: naked, and ye clothed me not, sick and in prison and ye visited me not.
Objectives:
To share the gospel of Christ

To provide further assistance to those in need both the natural and spiritual
To visit and contact the sick and the shut
To initiate and support community events with an aim of providing according to the mission scripture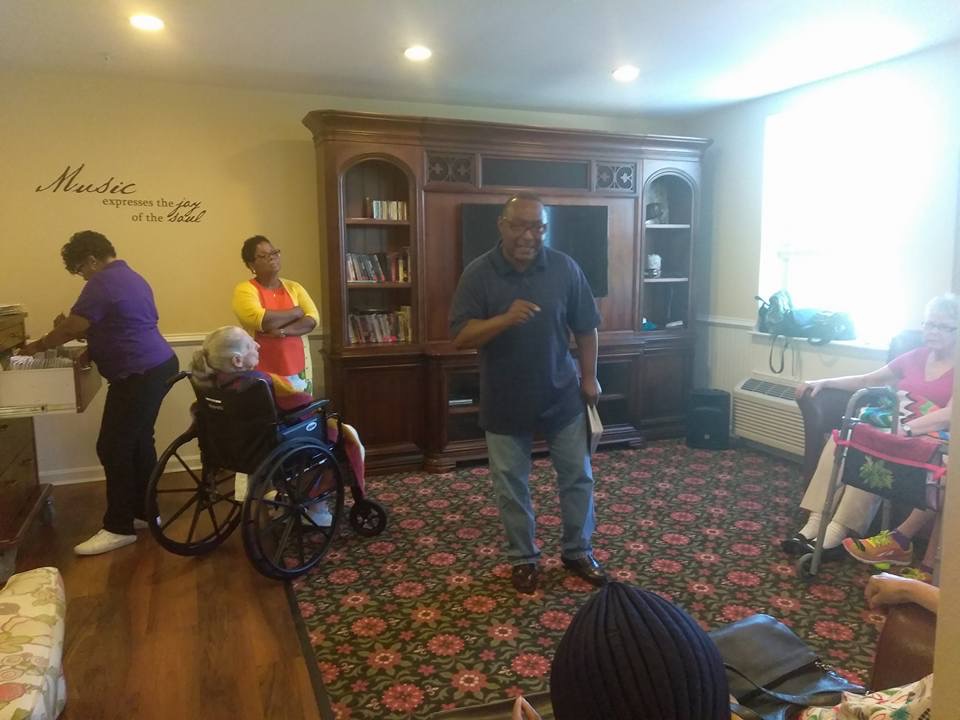 New Community's Evangelism Outreach Department ministering at a local Nursing Home!!!!